I cannot believe that it's been almost a month since that silliness on Twitter.
Where am I? Writing these posts feels like scribbling on a bit of paper and firing it into space. Where am I? Well, I'm still idly paddling around in the space ship. I've been asked by a few people if #Pitmad went anywhere, and the answer is a resounding no. Take that and fire it into space. I have gotten a few lovely rejections and I am patiently waiting for the last one to free up the anxiety section of my brain.
Fortunately, I am very busy, so I can't re-fresh my email and wonder which iteration of industry subjectivity or voice I will receive in my inbox. Papers are due, and then I am going off to Japan! It's going to be wonderful.
In the meantime, I am plugging away at the novel that I am convinced absolutely no one will want to read. How is Serango going? Well, this morning I reached the 63,000 word mark, which means I am butt-up against the third and final act of the book. I think this is the closest I've ever come to actually matching my acts and outline planning in a long time. So, that's positive. The negative is that this book is so hard to write. I like the characters, but I'm not convinced they'll be likable for anyone else. Also, there are so many characters! And this book isn't structured in a friendly, easy way like Six of Crows where the story evenly switches several main characters. I'll spend a couple chapters with one person, then move to another because it makes sense for the plot. Will a reader tolerate that? I don't know. Do I care? Also, don't know. I feel like I should care more.
In addition, I am a little terrified that nothing happens in this book. Maybe this is an irrational fear. It feels like there's a lot of feeling, talking, and describing. I kind of dig that, but I feel like more stuff should be blowing up or something. I don't know.
I keep having these days where I love what I've done. Where the characters are funny, or something dramatic has happened. Then, there are other mornings when I sit down to write and it's such a slog. Thank God I am not intending to query on this. What a nightmare it would be.
Anyway, in the spirit of positivity—I hear you are supposed to only be positive on blogs—I will say that it is nice having some sexual tension between characters. And there are some truly absurd descriptions in this book, but... there it is.
In this scene, which I wrote this morning, some guards have come to take a young woman named Nemesca away from the revolvists. She has joined the army because she wants to be a revolvist, and she wanted to escape her marriage to the prince. The General, Airfield, is trying to determine whether or not they should fight to keep her in the army.
Anyway, the last couple weeks have seen some book festivals around Los Angeles, so I thought that I would share some snapshots. Last weekend, the University of Southern California hosted the LA Times Festival of Books, and this past Saturday, there was Yallwest.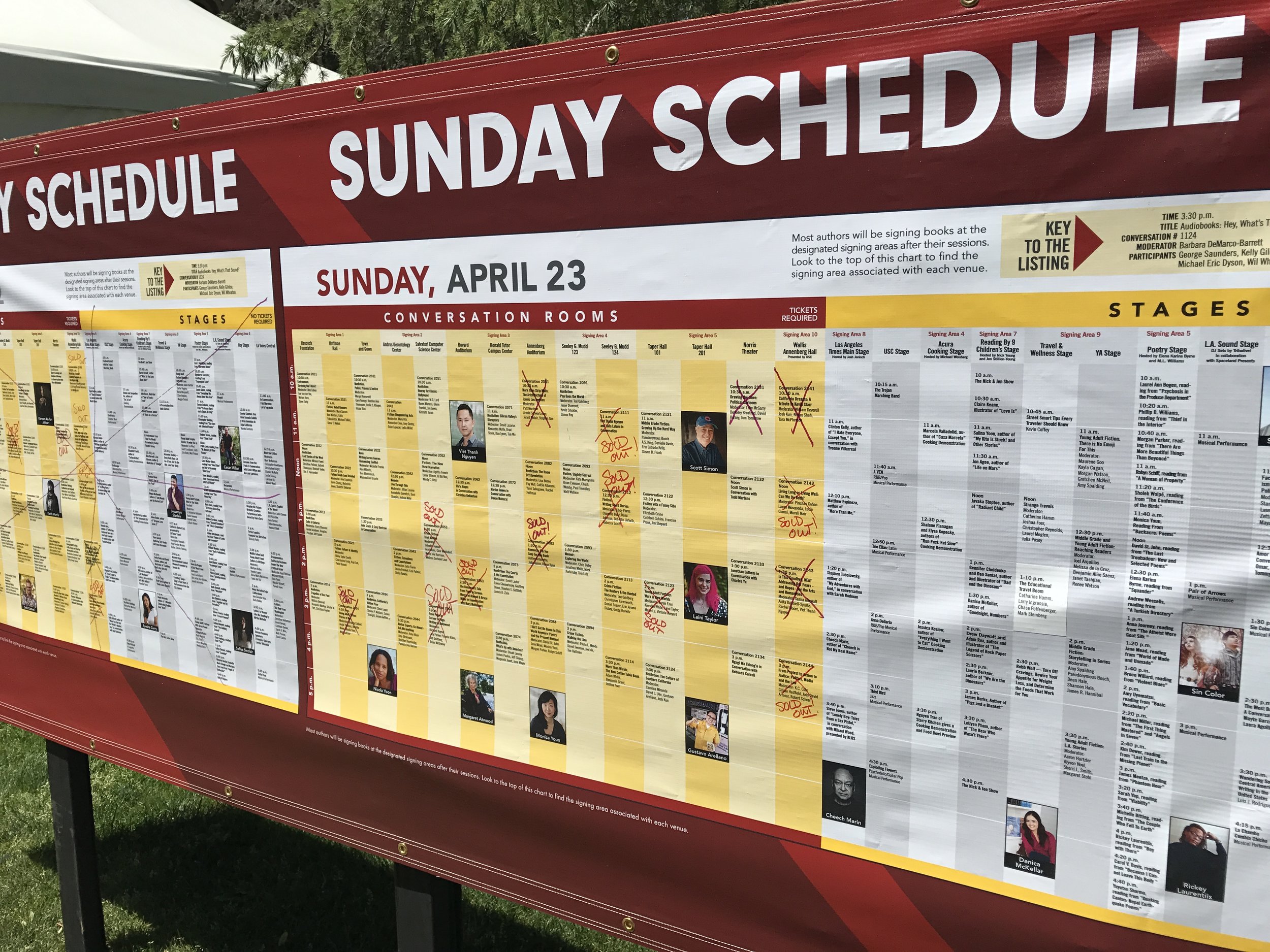 The unexpected highlight of the Festival of Books was the "I'm too sexy for this book" panel, which featured romance novelists. I've enjoyed a pile of Julia Quinn novels, so I decided to sneak into this sold-out panel. They talked about their work schedules, raising and supporting families, and stigmas of the profession. They had a real no nonsense approach to writing, which was frankly refreshing. "Writer's block is a disease of the privileged," or some such gem was said. Afterwards I bought a copy of Because of Miss Bridgerton and had it signed.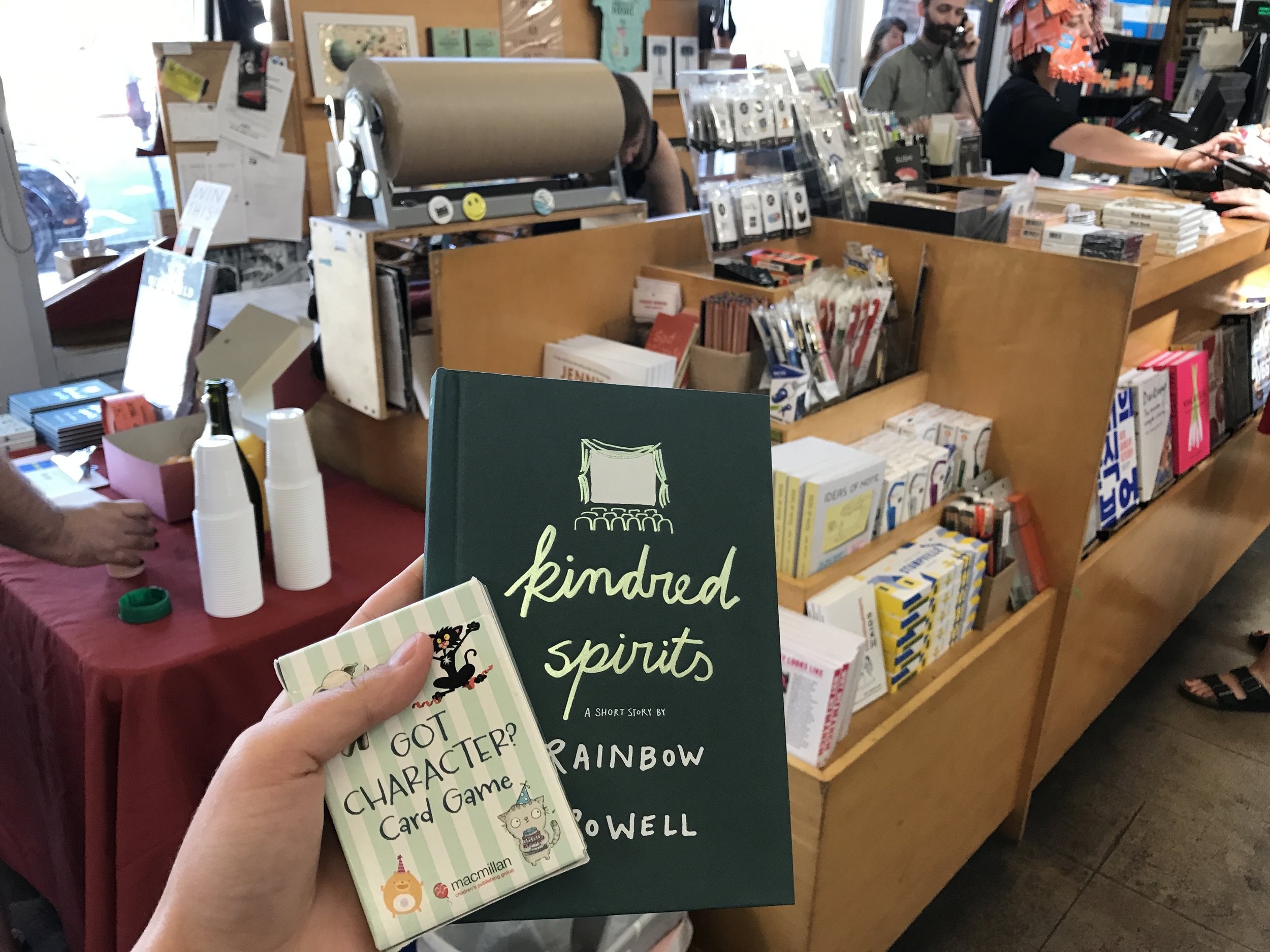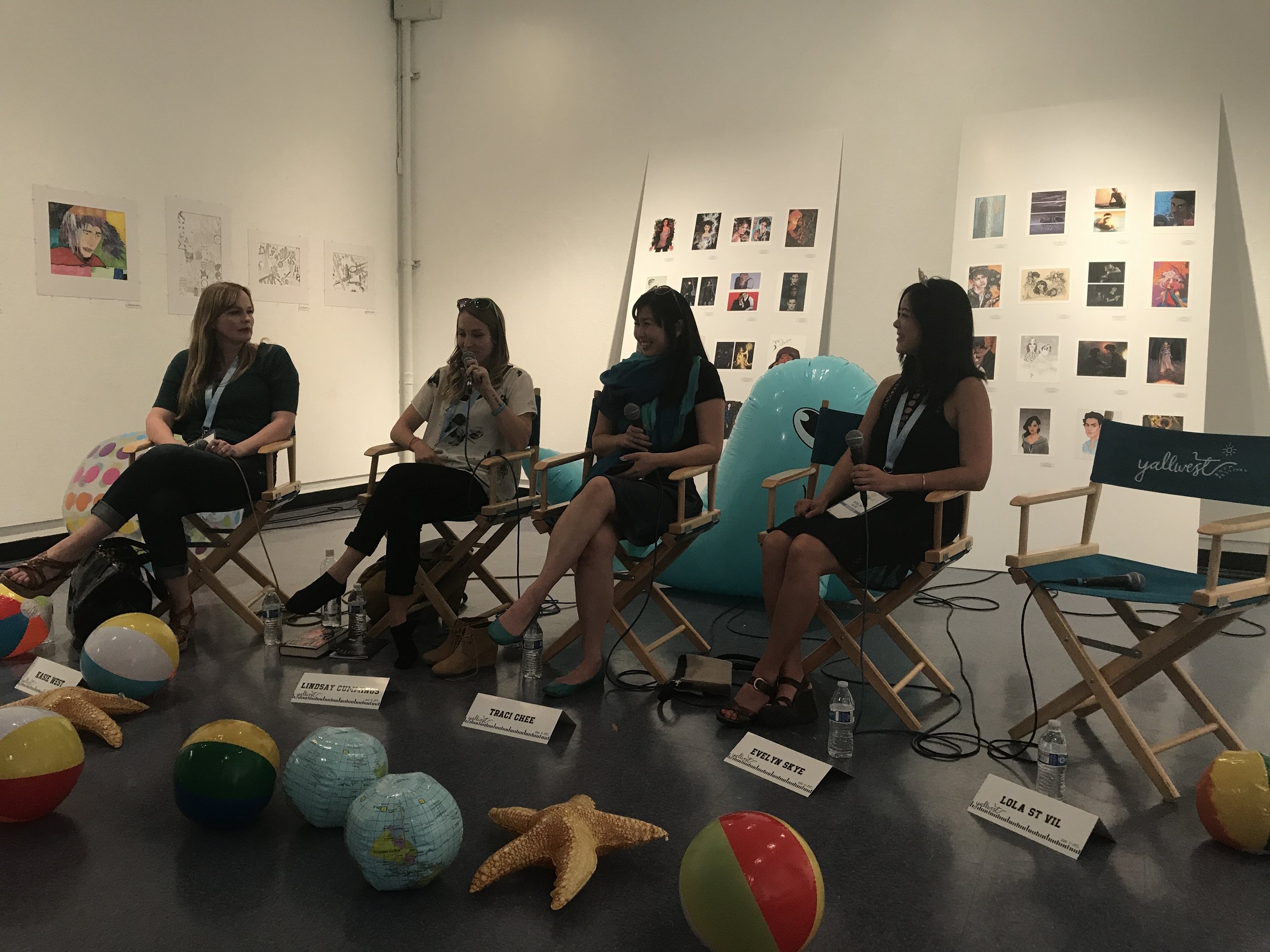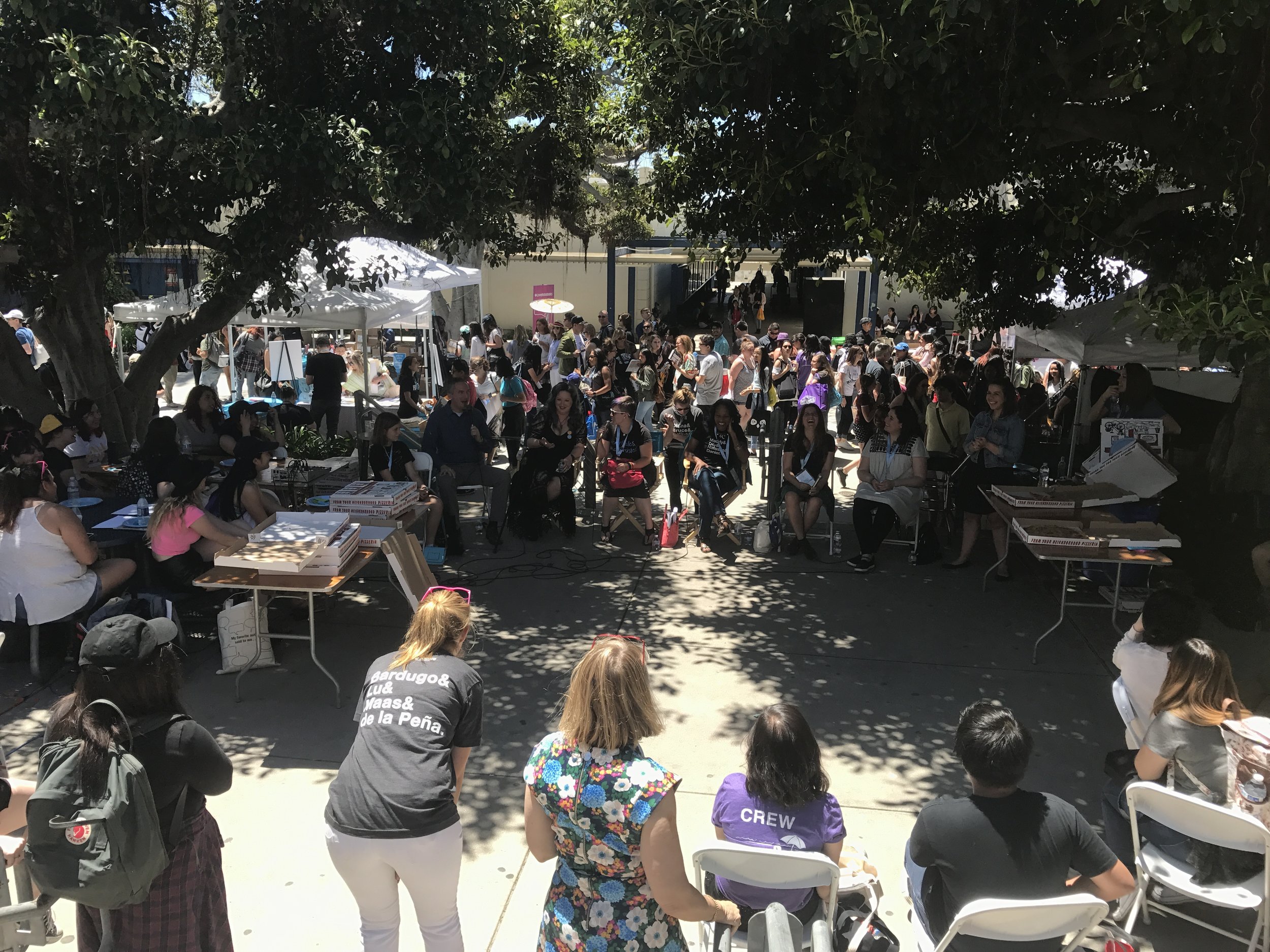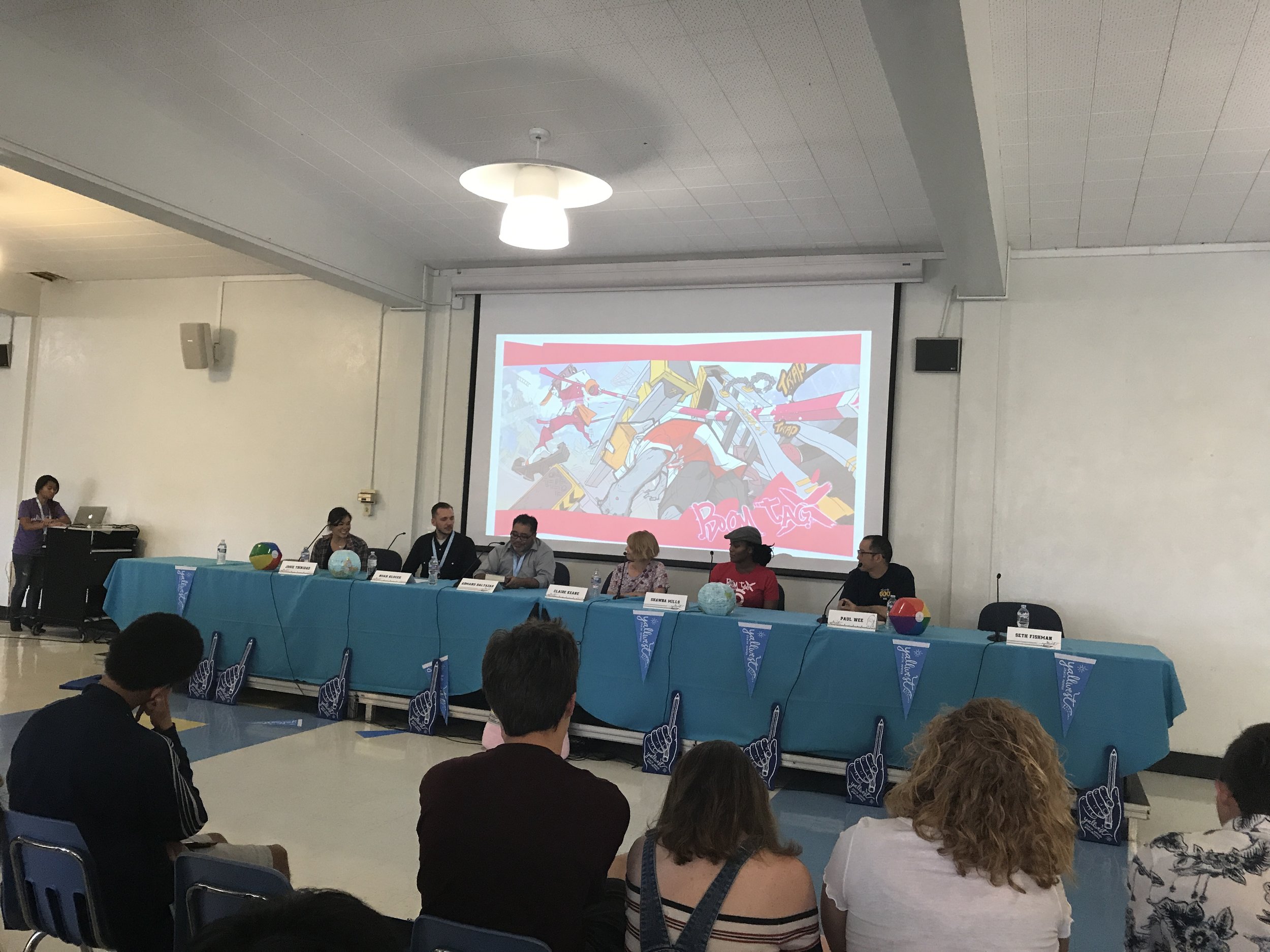 Yallwest, the YA book festival in Santa Monica, was only one day this year. And because it was on the same day as Independent Bookstore Day, I had to do double duty. I woke up, wrote, went to my local bookstore to snag a copy of Rainbow Rowell's Kindred Spirits, and then went straight across the city to Santa Monica. I arrived in time for a panel on writing series (cue laughter) and then a panel on mythology in YA. At a panel on animation featuring artists from Disney, Pixar, and the Simpsons, I ran into an old friend. We re-connected over banana pudding (because there's a truck for that at Yallwest) and then I found Samantha Chaffin. It was like finding a creature in its natural habitat. Anyway, we talked, and maybe she will write another pirate book? Maybe I'm at peace with never having an agent? I'm looking forward to the pirate book!