We arrived at 3PM, for an event that opened at six. Over three hundred people were lined up around the block.
Gallery Nucleus, Los Angeles's top pop art gallery is located in the San Gabriel Valley, an area east of downtown dominated by Asian American culture and food. After spotting the line—and briefly standing in it—we wandered about to talk with the cosplayers and take photographs. Many of the fans had arrived hours before we did. Everyone was hoping to snag a limited edition print done by Avatar co-creator Bryan Konietzko, as well as a coveted ticket to a signing with the creators. Gallery Nucleus announced that the first one hundred to make a purchase would receive a bracelet. So, people arrived in the early morning hours. And they camped.
The sun glares. The weather, hovering pleasantly in the 70s all week, had heats up Saturday afternoon. Gallery Nucleus had said no tents, but permitted chairs, and everyone was hot and many were in costumes. Many people were lining up, knowing they were past the lucky one hundred, hours beforehand. orra, Michael Dante DeMartino and Bryan Konietzko's Avatar sequel, just aired its last episode in December. They've said they're not coming back to the universe.
By all rights, everyone here should be pretty put out.
Everyone is pretty happy, despite the heat, despite it all. And it makes them pretty, despite the heat.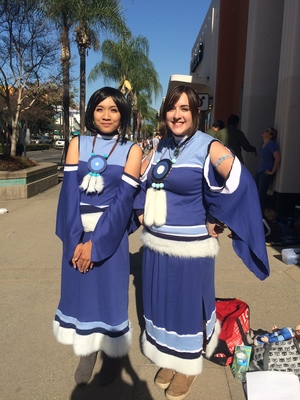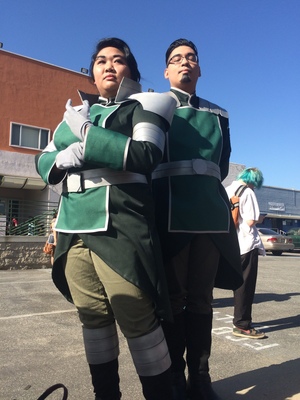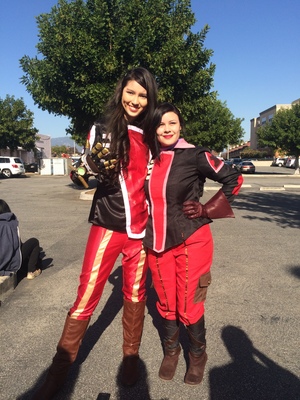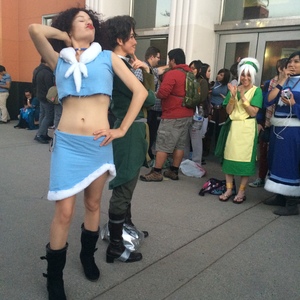 "I tried to grow out my goatee," says one cosplayer, gesturing to his chin, "but it wasn't full enough." He's added make-up to heighten the effect. "Asian problems," my friend says, and everyone laughs. I wipe the sweat from my forehead.
I'm here as "press"—which I technically am, but—but I'm carrying around a six-legged flying bison stuffed animal. He's hanging out of my purse, and I get some bison-heckling. "It's Appa!" "He looks so soft!" He is super soft, but I'm not about to pass him up and down the line of what is probably now 350 people. "He is soft..." I confirm as I edge along and pointedly take another photograph.
"I've been here since eleven," says a man in monk robes. "I just really want to see Mike and Bryan."
"It's like a mini Comic Con," says a girl under an umbrella. (Good thinking with the umbrella. I've only been here thirty minutes and I wish I had one.)
"We just met now," laughs another girl dressed as Korra. She poses with another girl dressed as Asami. Another fan takes pictures.
The gallery event is a tribute to Avatar, Korra, and the fans. Most of the art on display is by fans who submitted their pieces months in advance, and some animators who worked on the show.
I pass the carnival on the sidewalk one last time to enter an hour before the gallery opens for the fans.
Michael Dante DeMartino sits on the left, mostly quiet. Bryan Konietzko is filled with a sort of nervous energy. I'm in the front row with the other bloggers and press, listening as Bryan mostly fields questions on everything from casting the anarchist Zaheer, to future projects.
It's a little disheartening, but completely understandable, to listen to them talk about Korra now that's over. There's an old dispassionate fog in the room. A girl asks him about the highlights of making Korra. "We've dissected every screen and frame, so we're a little numb to it. I mean, we've mixed it, with music and that breathes new life in it." Konietzko pauses, realizing that's not exactly a highlight moment. "But when we get to watch it with fans, it's exilerating. We did a special screening at the Nickolodeon building in Times Square at the theater. That was a highlight."
The two men are most excited to talk about the industry in general, not so much their own work. When asked about the cost of 2D (drawn) vs CG (computer-generated) animation, Konietzko takes off before the question is done. "CG is more expensive. More time consuming."
There's a beat as everyone thinks that's his answer. It's not. "I think it's a bit of a golden age going on right now. I think we've come a long way. A golden age for 2D on tv because feature animation is CG. We saw a big surge of CG shows at Nick… that has created a surge at various networks where it's creator-driven. We see more women creators, which is awesome. People are doing awesome stuff. It's cool, the talent is coming up that wants to do tv and 2D, if they don't do video games. It's exciting."
"We're in a golden age of live action tv. It's like, cable series. More mini series, more boutique series, and so I think it's pretty cool. Am I going to be around to be a part of it?" He laughs. "No really, um, I'm pretty burnt out. But I'm glad some people are carrying the torch."
DeMartino leans over, elaborating. "I've never actually worked on a CG production. But the thing you realize, with 2D, the costs are somewhat similar with production, but there's a limitation with what characters you're going to have, what sets you're going to have… So, it depends what works for your particular show. For me, there's no way we could have done this show on a CG tv budget. It's impossible."
"When we're talking about Korra, that's an expensive show," says Konietzko. "That's an ambitious show. What Mike and I were doing, we were always in a trajectory and trying to top what we had done, like, yeah, we took it to the limit. There's not much more we could do to currently push it. It's not just a 2D thing. Schedules can only be so long, and the talent, you know, it takes a very specific group to do this kind of stuff and a studio, an animation studio to execute it. Those things are always being pulled in different directions."
Then he brightens for the first time that night, and I realize he's not so much in love with the show we're here to celebrate, but the people. He likes the fans. He loves the artists. orra is just lines and colors, and they are more to him.
"Those people do an amazing job and then other people want them," he continues. "That's good. You want them to move forward with their careers and get great opportunities. Most of these people are our friends. We get our time to make Korra, and then we're all tired, and burnt out, and everyone needs to move on and take that next step. I would not be surprised if a number of people from Korra have their own shows in the next ten years. I'll be very proud to have helped these people come up and get their footing. We all learned from each other. I learned from our youngest signers, everyday."
I ask him who we should be watching, and amidst the expected all the discussions of fandom drama—"Some people think this about the last episode..."—and giving the sales of Konietzko's prints to a LGBT suicide hotline—he is a nice human being with feelings—and his next project—he's not going to talk about it—and then we get our first "news" of the night.
Konietzko says to watch everyone. "Everyone. They're all amazing. I mean, you're going to see a lot of their artwork tonight, I don't want to name any names because I'll be skipping people… I'm fans of them."
"But, the core of the crew went to work on a production at another studio. I don't think there's anyone on it who didn't work on Korra. They call it Korra 2.0. But it's not Avatar-related. I don't think they've announced it, so we're not going to be the ones to know. Lots of amazing artists."
It's not Nickelodeon. My mind buzzes. I know that Dreamworks signed a big deal with Studio Mir, the primary animation studio on Korra. Studio Mir will be churning out several shows for Dreamworks. I ask him if Studio Mir is involved, which seems to cross a line for Konietzko, who informs me that he will not be saying anything because artists get in trouble. He's a little touchy.
I can't blame him for not answering. It's my job to ask, and it's his job to say no. But barely a minute later, he's happily talk about the industry at large again.
"Dreamworks, the deal they made with Netflix is insane," Konietkzo says. "The amount of content they're doing, and it's all going online. Orders that long… You'd be lucky to get a six episode pick-up on a first season. So, it could be tough to get really good epople. You'd be like, come work on the show! Dude, how long is it? Two months. I can't do trade this job for a two month gig. I left a long job to go work on Invader Zimbecause I felt like I needed to go where the creativity is. It turned into two years, and that led to Avatar and Korra. Digital outlets are allowing for more content to be made. The industry always swells and gets really big, and then shrinks down, but right now it's really good."
The digital option saved Korra. All of us are grateful for the new outlets, Konietzko and DeMartino especially. But as we discuss the character development of a dictator and show running, I'm beginning to think that the Korra team, sans creators, is making something cool at Dreamworks and Studio Mir is animating. Which—although speculation—is something for fans to be excited about.
"I just taught a college class, and people were like, thanks for my childhood! That's a great way to make someone feel old."
Konietzko repeatedly says he's burnt out. DeMartino is quiet.
We all go downstairs to enjoy the art.